Combo Fishing Trips in Seward, Alaska
Halibut fishing, Salmon fishing, Lingcod fishing - Finding it hard to decide what you want to catch? With ProFish-n-Sea Charters' combo trips, you can experience multiple fishing adventures in one day! The picturesque coastline near Seward is teeming with many kinds of fish, and it remains one of the most abundant marine ecosystems on the planet. Our combo charters offer anglers a variety of species, unparalleled action, and spectacular scenery all wrapped into one amazing trip. Booking a combo charter with ProFish-n-Sea is the best way to experience Seward's diverse fishing opportunities in just a single day.
Our knowledgeable captains carefully track the movements of the fish we target so we can put our guests in the heat of the action day after day. We have spared no expense in outfitting our boats with all of the tackle to make your charter a successful, safe, and productive experience to remember. Best of all, limits are separated by species so if you're lucky you can catch your limit of multiple species for more fish and more fun!
ProFish-n-Sea Charters' seward, alaska fishing season
SPECIES
MAR
APR
MAY
JUN
JUL
AUG
SEP
OCT
Pacific Halibut
Hippoglossus stenolepis
Good
Good
Peak
Peak
Peak
Peak
Peak
Good
Lingcod
Ophiodon elongatus
N/A
N/A
N/A
N/A
Peak
Peak
Peak
Good
Rockfish
Scorpaenidae Family
Fair
Godd
Peak
Peak
Peak
Peak
Peak
Peak
King Salmon
Oncorhynchus tshawytscha
Peak
Fair
Good
Peak
Good
Fair
Fair
Fair
Silver Salmon
Oncorhynchus kisutch
N/A
N/A
N/A
Fair
Peak
Peak
Fair
N/A
Pink Salmon *
Oncorhynchus gorbuscha
N/A
N/A
N/A
Fair
Peak
Peak
Good
N/A
ProFish-n-Sea Charters' seward, alaska fishing season
Pacific Halibut
Hippoglossus stenolepis
| MAR | APR | MAY | JUN | JUL | AUG | SEP | OCT |
| --- | --- | --- | --- | --- | --- | --- | --- |
| Good | Good | Peak | Peak | Peak | Peak | Peak | Good |
Lingcod
Ophiodon elongatus
| MAR | APR | MAY | JUN | JUL | AUG | SEP | OCT |
| --- | --- | --- | --- | --- | --- | --- | --- |
| N/A | N/A | N/A | N/A | Peak | Peak | Peak | Good |
Rockfish
Scorpaenidae Family
| MAR | APR | MAY | JUN | JUL | AUG | SEP | OCT |
| --- | --- | --- | --- | --- | --- | --- | --- |
| Fair | Godd | Peak | Peak | Peak | Peak | Peak | Peak |
King Salmon
Oncorhynchus tshawytscha
| MAR | APR | MAY | JUN | JUL | AUG | SEP | OCT |
| --- | --- | --- | --- | --- | --- | --- | --- |
| Peak | Fair | Good | Peak | Good | Fair | Fair | Fair |
Silver Salmon
Oncorhynchus kisutch
| MAR | APR | MAY | JUN | JUL | AUG | SEP | OCT |
| --- | --- | --- | --- | --- | --- | --- | --- |
| N/A | N/A | N/A | Fair | Peak | Peak | Fair | N/A |
Pink Salmon
Oncorhynchus gorbuscha
| MAR | APR | MAY | JUN | JUL | AUG | SEP | OCT |
| --- | --- | --- | --- | --- | --- | --- | --- |
| N/A | N/A | N/A | Fair | Peak | Peak | Good | N/A |
legend
N/A N/A
Fair Fair
Good Good
Peak Peak
Halibut/Silver Salmon Combo Fishing Charters
Combo charters for Halibut and Silver Salmon are our most popular trips during the months of July and August for the sheer action they entail. Halibut/Silver combo trips spend part of the day deep-dropping for halibut where anglers may find themselves pinned to the rail in a heated battle with a big Pacific Halibut. Later we'll bust out the mooching gear for some light tackle Silver Salmon action where multiple hookups often test anglers agility and determination. Coho (Silver) Salmon and Pink Salmon abound in these waters; you may even see a school of these chrome-bright fish right around the boat. Lucky anglers may catch their limit of both halibut and salmon!
ProFish-n-Sea's Halibut/Silver Salmon combo fishing charters are available in July and August only.
Halibut/Lingcod Combo Fishing Trips
Our Halibut/Lingcod charters are not for the faint of heart. We'll head out to the open water to experience some of the best halibut fishing in Alaska, exploring remote reaches of ocean where big halibut like to hide. Along the way, our expert captains will stop offshore of the rocky coastline, at their favorite spots, allowing anglers to work the underwater rock piles with jigs for giant lingcod. Drop a small jig and you may also hook up with different varieties of colorful rockfish which inhabit the same rocky pinnacles. This is an arm-burning workout that is ripe with reward!
Halibut/Lingcod combo fishing charters are available in July and August (Lingcod season opens July 1st).
Halibut/King Salmon Combo Fishing Charter
Target Alaska's two most prized fish in one day! We'll spend part of the trip searching offshore pinnacles and ledges for halibut. Then, we'll head in along the remote shorelines near Prince William Sound to troll for mighty King Salmon, a fish that always lives up to its name. ProFish-n-Sea's custom boats get you to the action quickly and are equipped with all the tackle to make your trip a success.
ProFish-n-Sea's Halibut/King Salmon combo fishing charters are available in June only.

Make Your Reservation with ProFish-n-Sea
Our popular multi-species fishing charters book up months in advance, so make your reservation as soon as possible to avoid disappointment. Make a reservation, or learn more about what you can expect on your Seward fishing trip.
Meet The Crew
Captain Steve Zernia and the fun, friendly crew at ProFish-n-Sea are dedicated Alaskan fishermen with extensive local knowledge and many years on the water. We have pioneered some of Seward's most productive fishing grounds and continue to work tirelessly to provide our clients with the finest Alaska fishing charters available.
Anyone might land a catch once in a while but the true measure of a successful Alaska fishing guide is the ablility to produce top catches on a consistent basis. Our captains have a passion for fishing in Alaska and no one knows these waters like we do.
Boats And Tackle
Our fishing boats are some of the newest and fastest in Seward Alaska's fishing charter fleet. This means we spend less time traveling and more time fishing.
We maintain our charter fishing vessels to the highest possible standards, so on the water nothing is left to chance. We pride ourselves on making our passengers feel comfortable on the water and that starts with vessels that are safe, clean, and well maintained.
We have outfitted our vessels with the very finest fishing tackle which is perfectly matched to the query we target. We have kept both the experienced and novice anglers in mind and outfitted our boats with tackle that is sensitive, relatively lightweight, and very well proven. We have spared no expense to outfit our vessels with everything needed for a successful day on the water.
Latest Fishing Reports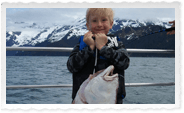 Can Not load Feed from https://www.profish-n-sea.com/seward_fishing_reports/?feed=rss2
Plan Your Trip
There are a few fun and practical matters to consider before your charter. Follow the links below to find answers to your questions.