Trip Details
In the Morning
On the morning of your charter you will meet at the ProFish-n-Sea Charters office at the top of B-Dock in the Seward Small Boat Harbor. Our office staff will process your payment transaction and you can purchase any needed last minute items such as your Alaska Fishing License or clothing. You are required to bring a current Alaska Fishing License (king salmon stamp is optional), warm layered clothing, rain gear, non-slip footwear, lunch, and beverages (no hard alcohol). Our staff will then give you directions to the boat and inform you of the scheduled departure time.
On the Boat
Once at the boat, the captain will greet you and give you a rundown of the safety features of the vessel, brief you about the Seward marine weather forecast, and layout their plan for the day's fishing adventure. You should inform the captain of any health/safety concerns you may have at this time. You will then leave the dock to begin your fishing adventure. Normal running time to the fishing grounds on a halibut charter is anywhere from one hour to three hours. Normal running time for salmon charters is between 10 minutes and one and a half hours.
You will travel through one of the most pristine marine ecosystems on earth. We fish in Resurrection Bay, Kenai Fjords National Park, the Gulf of Alaska, and/or Montague Island waters. During your trip it is common to see glaciers, sea otters, porpoise, dolphins, Stellar Sealions; killer whales, fin whales, humpback whales, bald eagles, and a variety of sea-birds such as puffins and murres.
Let's get fishing
Once you arrive at the captains chosen fishing destination the crew will instruct you with regard to the fishing tackle and technique used for the particular type of fishing. Our fishing trips are hands-on adventures where you will hook and fight your own fish. The captain and crew will bait your hook and net or gaff your fish as they come to the boat. If you are not familiar with the particular type or style of fishing our friendly crew will gladly guide you every step of the way.
return to dock
After your fishing day is complete, the boat will leave the fishing grounds in time to return to the dock between 5 and 6 pm. At the dock your crew will gladly hang your catch for a photograph and fillet your fish for you to take home.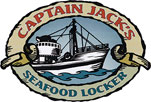 Captain Jack's Seafood Locker, located on the docks, offers fish processing services such as vacuum packaging, freezing, boxing, and shipping of your catch. Otherwise, you can bring a cooler and/or bags to transport your catch home with you.
What To Bring
We recommend you dress warmly and in layers so, based on weather conditions, you can add or remove layers as necessary. This should be topped off with a wind/waterproof outer shell. Our boats all have heated cabins but while we are fishing you will be standing outside. We can't always predict the weather in Alaska but one thing is for sure - you'll be in it!
we recommend you bring the following
Lunch and Drinks (no hard alcohol)
Camera/video camera
Raingear
Waterproof, non-skid footwear
Hat
Sunglasses
Motion sickness medication for those prone to sea sickness – Please consult your physician.
Cooler and/or bags to put your fish in after it is filleted or vacuum sealed by Captain Jack's. (If possible leave large coolers in your car to allow more fishing space on the boat.)
We Provide
There is a lot that you don't have to bring! This is what we provide for you:
Tournament grade rods & reels
All bait and terminal tackle
All Saftey gear
USCG Licensed Captain
Clean and Safe vessel
Friendly expert instruction
Free Fish filleting
No Bananas!
They're Bad Luck - Seriously!
Back in the days of the sailing ships, sailors ate fruit to prevent the onset of scurvy. Bananas would ripen and spoil faster than most other fruits. When the bananas would rot the bug larvae in the skin would hatch and infest not just the other fruit but the entire ship itself. For this reason, the banana was deemed unfit for sailing ships. Any mention of bananas was seen as a bad omen and would spell misfortune for the voyage. We still believe today!
Plan Your Trip
There are a few fun and practical matters to consider before your charter. Follow the links below to find answers to your questions.